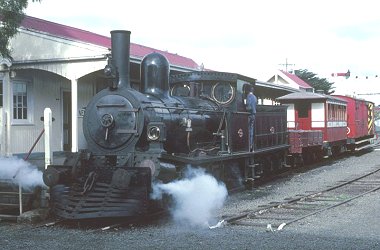 C22 and train stand outside the restored New Town station, before departing on another trip along the display line, September 1998 Michael Dix
The Tasmanian Transport Museum Society was formed in 1962 and has since established a extensive transport museum in the Hobart suburb of Glenorchy.
The museum is open on Saturdays, Sundays and public holidays, between 1:00 pm and 4:30 pm. Trains operate on the first and third Sundays of the month. Occasional main line trips are also operated.
The rollingstock collection includes 10 locomotives, 7 carriages, 10 wagons and 3 railmotors. The museum also houses a collection of buses, trolley buses and trams, as well as the restored New Town station building.
Contact Details:
Tasmanian Transport Museum Society
GPO Box 867
Hobart
Tasmania, 7001

Phone: (03) 6272 7721
Email: ttms.information@internode.on.net
See their internet site for more information