Apsley Line
Also known as: Green Ponds Line (name used on early TGR plans for the line, refers to the original name of the area around what is now Kempton), Brighton to Melton Mowbray Railway (name used on survey plans)
From: Brighton (Junction with Main Line) To: Apsley
Opened: 1891
Closed: 1947
Status: Closed & lifted
Total length: 42.3km (26¼ miles)
History
This line was one of a group lines in the south of Tasmania approved for construction in the early 1880s to complement the then privately owned Main Line. Construction commenced in 1888, and the line was officially opened for traffic by the TGR on 22 April 1891, although the contractor had been carrying some goods traffic before this time.
Traffic on the line was mostly passengers and agricultural products, but the well established roads in the region and restricted catchment area limited the potential of the line. Services ranged over the years from one or two return mixed trains a day until 1927, when passenger accommodation was withdrawn and the remaining train became nominally a goods only service. Within a few years the goods service was cut back to first two trains a week, then once a week, before closure in June 1947 and replacement by a government operated trucking service.
Route
The line started at Brighton station, just on the Hobart side of the Jordan River, before crossing the river on its own bridge (parallel to the then Main Line railway bridge) and then generally following the river to Pontville. Between Pontville and Bagdad, and Kempton and Melton Mowbray, the line ran along a similar alignment to the current highway. From Melton Mowbray to Apsley, the route paralleled the current main roads with the exception of going around the other side of Nannygoat Hill. Between Bagdad and Kempton, the line winds its way around the hills and next valley to the west of the current highway.
An extension to Bothwell (an additional 12 miles) was surveyed around 1892 but did not proceed.
Map & Station list
From an 1897 Public Works chart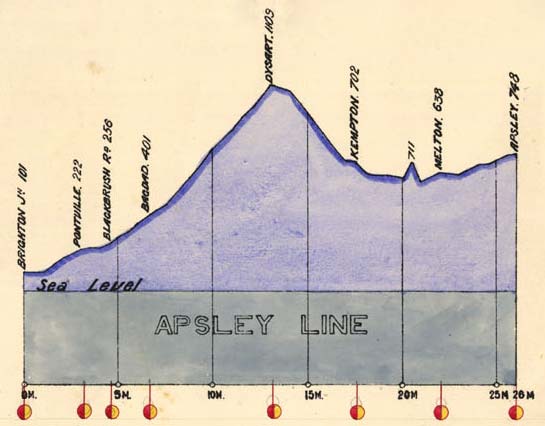 Time Table
From the 1939 Public Time Table
Other References
A short history of the Apsley branch line by HJW Stokes, published in ARHS Bulletin, July 1971
Return to Railway Lines Index
---
Page last updated:
Page URL: http://
All content of this site is copyright ©
Please contact us if you have problems or want more information
For comments on or improvements we could make to our Web-site please email admin @ railtasmania.com or for more information on Tasmanian railways, read Tasmanian Rail News or email info @ railtasmania.com