Preolenna Line
From: Irishtown (Junction with Far western Line)
To: Maweena
Opened: 1917 (to Preolenna), 1922 (to Maweena)
Closed: 1931
Status: Closed & lifted
Total length: 32km (20 miles)
History
The Preolenna line was one of the last group of developmental branchlines to be constructed in the state. Like the others at the time, it was intended to serve the rich farm lands of the coastal plains, as well as the forestry industry further inland. Preolenna itself was located on the edge of a Coal and Kerosene Shale mining area, the development of which coincided with the construction of the railway line. The annual reports of the era show that the TGR was not in favour of the this line or its continued operation, describing the traffic at one point as "infintecimal"!
The line was not built to a high standard, having almost constant 1 in 40 grades on the climb from Flowerdale to Preolenna and numerous sharp curves, as tight as 3 chains (60 metres) radius. Such was the standard of the line that in 1926 trains were permitted a maximum speed of only 12 mph (19 km/h) with only 10 mph (16 km/h) allowed on 3 and 4 chain curves. The original plans referred to the line as a "Tramway", although later plans referred to it as a "Railway".
Prior to the completion of the line, it was decided to extend it another 7.6km to Maweena, to better serve the areas coal mines. In 1930, 3,500 tons was shipped out of Maweena, most being coal or forestry products. By comparison, only 90 tons was being sent from Preolenna. The line closed in 1931 when mining ceased and the track was soon lifted
In the late 1990s there were proposals to open Magnesite mine(s) in the West Takone, approximately 5km south of Maweena. Possible routes included building south broadly following the old Preolenna line, or building west from the Melba line. In the end, no mining took place and the proposals lapsed.
Route
The line commenced in the existing Flowerdale yard, with the triangular junction at the eastern end of the yard. The line climbed its way up the western side of the Inglis River valley for approximately two kilometres, before tending westerward along a valley and then crossing the ridge toward the Flowerdale River around the farming area of Moorleah. The line continued generally south following the western side of this ridge for much of the route, although the section approaching Preolenna was again along the eastern side of the ridge, before turning westward for the final section to the station. From Preolenna, the line was generally southward as the topography allowed
Time Table
From the 1922 Working Time Table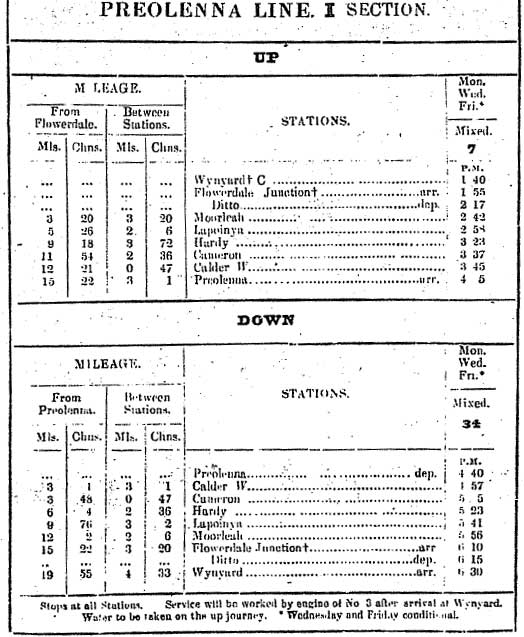 Map
Other References
Five Miles Short of the Dream by Janeice Parusel
Return to Railway Lines Index
---
Page last updated:
Page URL: http://
All content of this site is copyright ©
Please contact us if you have problems or want more information
For comments on or improvements we could make to our Web-site please email admin @ railtasmania.com or for more information on Tasmanian railways, read Tasmanian Rail News or email info @ railtasmania.com