Garratt Locomotives
TGR K, L, M & G Classes
EBR Beyer-Garratt and ASG Types
There were four types of 3'6" gauge garratt locomotives operated in Tasmania. The first two types were the TGR's 1912-built L and M class locos. Both classes were built by Beyer, Peacock and Company of Manchester, England and shared many features. The two L class locomotives were built for heavy goods traffic, and these 90 ton machines performed sterling service on the TGR until the arrival of further conventional Q class locomotives, and were stored for most of the 1930s. The two passenger M class locos were the only eight cylinder garratt locomotives in the world, and despite their haulage abilities and speed were difficult to maintain and were withdrawn some time after the arrival of the R class 'Pacifics' in 1924. Although the L class had a short respite in the dark days of World War Two, all four locos were cut up during the great scrapping splurge of late 1940s.
The Emu Bay Railway's three Beyer-Garratt locomotives fared better than their smaller government counterparts. Delivered in 1930, they hauled the majority of heavy freight traffic over the steeply graded line until the delivery of the ASG locomotives from 1950.
The Australian Standard Garratt (ASG) locomotive was designed by the Commonwealth Land Transport Board. The ASG was to be a suitable narrow gauge locomotive aimed at easing a chronic shortage of motive power on the various state 3'6" gauge systems, which was a result of the advent of World War 2. Sixty-five ASG locos were built in 1943–44 by railway workshops in South Australia, Victoria and Western Australia, and by Clyde Engineering in Sydney. Most of the locos operated in Queensland and Western Australia, with eight units assigned to the TGR as their G glass.
The TGR's original allocation was complemented by another batch of six ex-Queensland locos in 1949–50. Around the same time, the Emu Bay Railway purchased three locos from Queensland, and in 1962 two surplus TGR locos were obtained, one to replace a loco written off soon after entering service.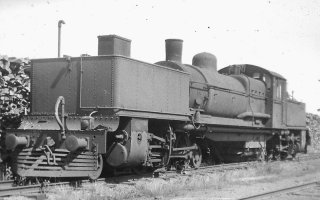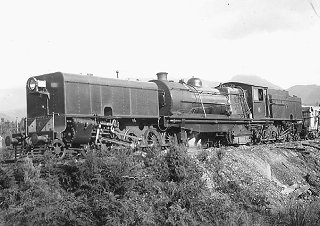 Top:One of the TGR L class stored at Launceston during the late 1940s
Middle: Emu Bay Railway Beyer-Garratt number 13 at Primrose in 1937
Bottom: EBR number 17 (formerly CLTB G23) and Dubs 6 on shed at Burnie in April 1965
All photos ARHS Tasmania Collection