Introduction
History
The development of Tasmanian prototype railway modelling is more about individuals forging their own direction for their own reasons than any manufacturer support or the existence of any club.
In the 1950s, the TGR exhibited a promotional layout. The layout appears to have been either S or O scale with three rail current collection. Although many of the trains were generic or based on mainland prototypes, at least one TGR prototype train was operated. The following images of the layout are taken from the TGR promotional film "The Job We Do".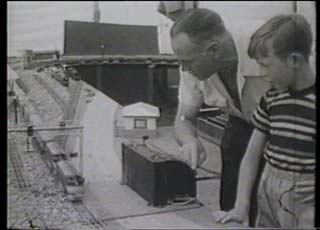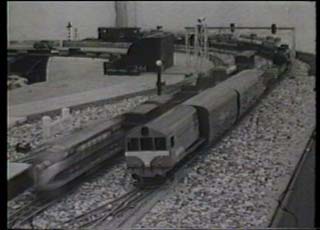 As well as this layout, other models were also exhibited as part of larger displays by groups such as Hobart Railway and Model Railway Club who were active in the early 1950s in both O and OO scales.
It is probably the work of Michael Dix in the Australian Model Railway Magazine and Max Chandler's early exhibition layouts that gave some profile to Tasmanian modelling from the 1980s onward. The proliferation of exhibitions from the late 1990s, and the rise of the internet have served to increase the profile of this section of the hobby and its participants.
Popular Scales
Over the years, many scale/gauge combinations have been used to model Tasmanian railway prototypes. The table below lists the more popular combinations.
3' 6" Gauge Prototypes
| Scale Name | Ratio | Track gauge | Comments |
| --- | --- | --- | --- |
| Nn3 | 1:148, 2.5mm : 1 foot | 6.5 mm (Z) | |
| TTn3½ | 1:100 / 3.0mm : 1 foot | 9.0 mm (N) | Also known as NZ120 in New Zealand |
| HOn3½ | 1:87 / 3.5mm : 1 foot | 12.0 mm (TT) | |
| OO | 1:76 / 4.0mm : 1 foot | 16.5 mm (HO/OO) | |
| Sn3½ | 1:64 / 3/16" : 1 foot | 16.5 mm (HO/OO) | |
| G | ~1:22.5 / ½" : 1 foot | 45 mm (1) | Used to represent both 3'6" and 2' gauges |


The above image shows a TGR C class open wagon in three of the more popular scales at approximately actual size - (From left to right) Sn3½, OO and HOn3½
2' Gauge Prototypes
| Scale Name | Ratio | Track gauge | Comments |
| --- | --- | --- | --- |
| Sn2 | 1:64 / 3/16" : 1 foot | 9.0 mm (N) | |
| On2 | 1:43 / 7mm : 1 foot | 14 mm or 16.5 mm (HO/OO) | |
| G | ~1:24 / ½" : 1 foot | 45 mm (1) | Used to represent both 3'6" and 2' gauges |
Each scale has its own advantages, disadvantages and compromises, and these will be mentioned on the various pages of this site

Page last updated: October 19, 2012, 06:38:48
Page URL: http://railtasmania.com/modelling/intro.php
All content of this site is copyright ©
Please contact us if you have problems or want more information