Inspection motor DP13
Inspection motor DP13 was unusual in that it was the only ex TGR passenger vehicle retained for any great period after the mass withdrawals and sales of remaining passenger stock the late 1970s.
Suburban railcar DP13 was taken out of passenger service and converted to an inspection motor in 1959. This was achieved by the sealing of the end door and the removal of various partitions and all seating, and the fitting of tables, different seating and some kitchen components in various locations more suited to its new role. It was used for departmental purposes as required, although this was minimal compared to its passenger carrying equivalents.
The railcar was painted in Australian National's green and yellow colours in March 1981 as part of the launch of the new Launceston freight facilities. It was unusual in that it was possibly the only AN passenger vehicle from the three constituent systems to be painted in the locomotive colour scheme - mainland railcars and passenger stock generally retained their existing SAR or CR inspired liveries (or some variation), or were painted yellow with a a green panel much like the Tasmanian locomotive livery adopted in the 1990s. Through the 1980s DP13 saw little use and was normally stored securely and under cover in Launceston although it made some appearances at public events in this period as well as occasional departmental use. It was listed for sale on a number of occasions, but this wasn't carried through and it remained in storage and in AN ownership.
In the 1990s the vehicle saw much more frequent operation, regularly operating for events like the Burnie Show, Tasrail open days, enthusiast charters and departmental uses. The railcar was also used by EBR on a number of occasions. With the impending sale of Tasrail, DP13 was sold in late 1996 to a consortium of Hobart area enthusiasts and tourism operators who had formed to the Company Classic Rail Tours and had previously obtained sister railcar DP14. After a period running commercial trips, the two railcars were sold to the Burnie City Council (see this page for details of this operation), although they had been out of use since 2006. In May 2012 DP13 was severely damaged by fire, and the remains were later sold to DownsSteam in Queensland. By 2018 it had been rebuilt but had not entered service.
Details
Owners: TGR, AN
Power: 76kW (102hp)
Motor: Gardner 6LW
Wheel Arrangement: 1A-2
Weight: 19.9t
Allowable load on 1:40 grade: n/a
Wheel Arrangement: 1A-2
Length over headstocks: 15.0m (49ft 3in)
Introduced: 1939; Modified for departmental use 1959
Built By: Waddingtons, NSW
Number Preserved: 0
Number In Service: 0
Total Number Built: 0
Class photos, sounds and video
There are 11 matching items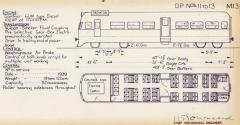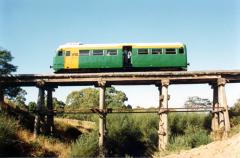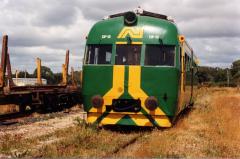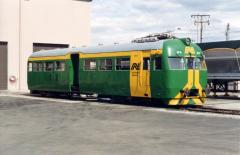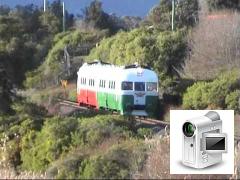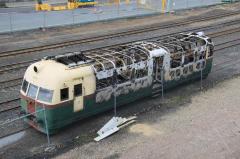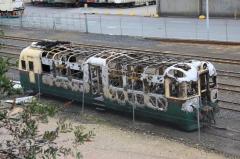 ---
Return to Locomotive information Index
---
All content of this site is copyright ©
Please contact us if you have problems or want more information
For more information on Tasmanian railways, read Tasmanian Rail News