QR Class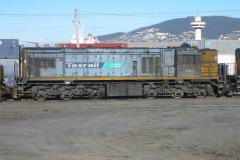 Three QR class locos were shipped to Tasmania in 1998 to accompany the second batch of DQ class locomotives. These three locomotives are numbered QR2056, QR2062 and QR2102, and are all painted in the then standard Tranz Rail (New Zealand Railways) colour scheme of blue and yellow. They were originally Queensland Railways 1460 class locomotives, and were sold to Tranz Rail and shipped to New Zealand in 1997. Here they were repainted, and a number of minor modifications applied, before being used as middle units in New Zealand. As well as the locos sent to Tasmania in their unmodified form, others were rebuilt to DQ class, whilst the remainder were eventually withdrawn and stored/sold in New Zealand.
They cannot be used as lead units due to lack of radio and other equipment, and must operate between D, DQ or DC locomotives. A few instances of QR class being driven from have been recorded, mostly for yard shunting, and light engine transfers. QR2056 has spent lengthy periods stored at East Tamar but was returned to service in April 2002. QR2102 was stored after a major failure in July 2002. By 2008 only 2062 remained in active service, generally on the Melba Line, but later occasionally on South Line services to/from Hobart. This loco has since been stored too, and all three units are at East Tamar.
Various proposal have been put forward, including converting these locos to additional DQ class, although with the change in ownership the future of these 1960s vintage locos remains to be seen.
Details
Owners: Queensland Railways, Tranz Rail, Tasrail
Power: 980kW (1310hp)
Motor: EMD 567C V12
Wheel Arrangement: Co - Co
Weight: 91.4t
Allowable load on 1:40 grade: 400t
Wheel Arrangement: Co - Co
Length over headstocks: 15.0m (49ft 4in)
Introduced: 1965 (QR) / 1997 (Tranz Rail) / 1999 (Tasrail)
Built By: Commonwealth Engineering, Queensland (on behalf of Clyde Engineering)
Number Preserved: 0
Number In Service: 0
Total Number Built: 3
Class photos, sounds and video
There are 9 matching items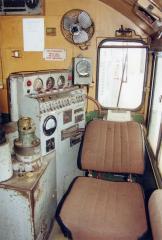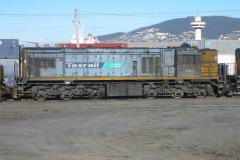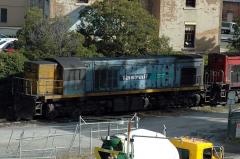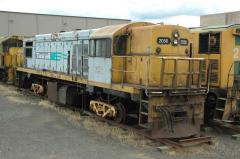 ---
Return to Locomotive information Index
---
All content of this site is copyright ©
Please contact us if you have problems or want more information
For more information on Tasmanian railways, read Tasmanian Rail News